Web content in perpetual motion
As humans we're united by our restlessness, that eternal struggle to reach the horizon just to experience or deliver something new. We can't help but strive to explore ideas, to build, shape and re-shape things to achieve increased efficiency and beauty. It's precisely how we've managed to dominate this planet of ours.
So how, in this modern world of furious digital content production and management, can we encourage and harness this inherent drive to create and analyse? You can't go far wrong by bringing a sense of order and perpetual motion to proceedings.
Following a continuous process of analysis, preparation, creation, and governance offers us an ideal way of producing consistently lean, user-focused, and bottom-line-affecting content for the web.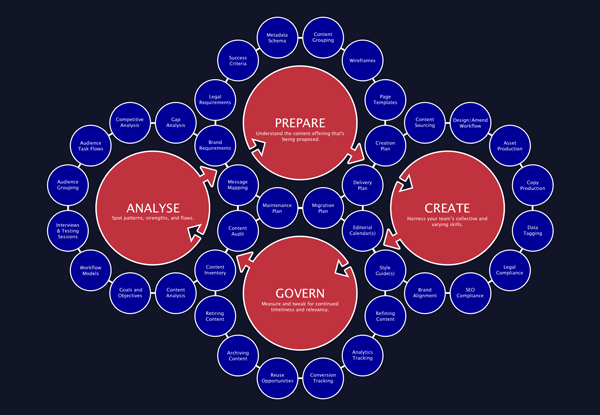 Note: Don't try to study the diagram above without clicking for a higher resolution version. Your eyes will thank you later.
Update (17/11/10): Fancy making your printer squeal with anguish? Download the PDF version.

Web content in perpetual motion (1.63 MB)