Get a grip of your web content
As we know, dealing with content is a messy, complicated, and expensive business, and sometimes it's just not possible to take things as far as you'd like.
You may have Old Father Time perched in the corner pointing at his hourglass, your budget might be drying up faster than you can say 'right, where's the kettle?', or you may even find yourself having to swim against wave after wave of apathy, resignation, or downright stubbornness (hopefully not all three, otherwise it'd be best to take flight to the nearest set of hills).
Is there a quicker (and whisper it softly: cheaper) way to reveal those weaknesses and gaps, discover those pressure points, and still make some considered recommendations as to the ideal path ahead? I believe that, through a combination of small-scale auditing, testing, and interviewing, you can go some way to achieving just that.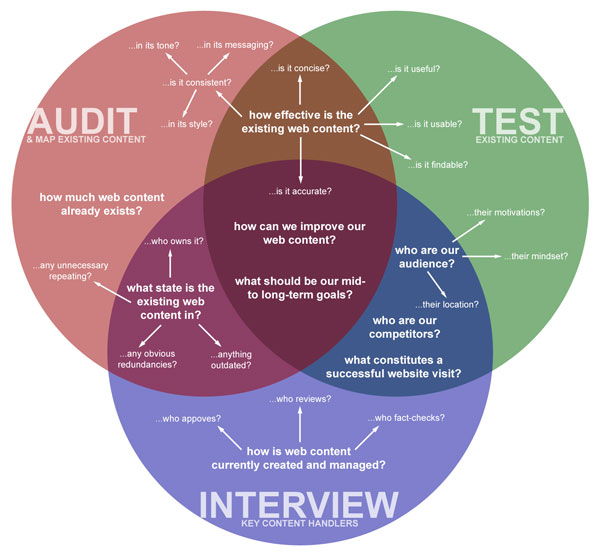 Conducting a quick and dirty audit will help to reveal some of the clearest patterns and relationships that exist between the content assets and with it the obvious holes that'll need attention.
Testing choice samples of the existing content with a handful of live audience representatives will allow you to measure its impact and effectiveness.
Interviewing only the key content handlers will enable you to learn more about how the content is published and maintained, as well as who's responsible for the vital tasks of reviewing, approving, and removing.
Even though what you'll produce may not be anything close to a full-scale analysis of the existing content, nor will it necessarily reveal a complete representation of the existing workflow patterns and publishing processes, you'll at least have a much better grasp of your web content and, with it, the confidence to decide on the direction you'll need to take.